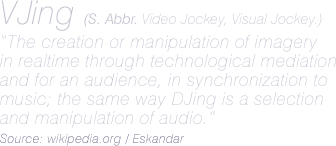 VJing (S. Abbr. Video Jockey, Visual Jockey.). "The creation or manipulation of imagery in realtime through technological mediation and for an audience, in synchronization to music; the same way DJing is a selection and manipulation of audio." Source: wikipedia.org / Eskandar.
With a strong background in both music and design, we provide visual and audio bespoke VJing for International live events within a variety of sectors.
We deliver VJ sets for numerous occasions ranging from small intimate product launches, such as the London and Paris launch of the BlackBerry Storm, to Club nights and large Global Conferences like Microsoft's International TechEd conference. Our varied clients have included companies from a spread of global sectors including Music, IT, communication and entertainment companies, taking us to the international corners of the world including Paris, Japan, Barcelona and Enfield Town.
Our strong design foundations allow us the ability to pre-design and produce specific event, client or product branded motion graphic/video clips and overlays.
These are then mixed live at the event, alongside our extensive targeted motion footage and music library to give a performance which is not only cutting edge, but in keeping, integrated and complementary with the existing overall event ethos.
We can deliver an upfront VJ performance or blend into an event backdrop behind the scenes. We're pretty flexible and also perform using our own extensive library of varied footage and music all created by ourselves, as well as provide more tradional DJ services. We also pre-produce and supply non performance motion graphic set pieces, creative direction and audio integral to the overall event branding.
Please click on the links above to see examples of our VJ work in more detail.
Having VJed from an earlier era where banks of video tape decks were used rather than laptops, we have taken the knowledge learnt from those halcyon days producing audio visual experiences for crews such as Eurobeat 2000, Analogue City and Good Looking Records, and have run with it.
Musically, we've been DJing from an early age, having been raised on a mixed diet of genres, with styles encompassing a melting pot of Rare Groove and Soul, Hiphop, house, Drum and Bass, Lounge, Downtempo, Breakbeat, Triphop, Brokenbeat, Electro, Glitch and Dubstep. Yes, we are also available for Weddings, Bar Mitzvahs and Funerals ;)